Who are we?
Comments from clients...
I feel very fortunate to be able to assist people in the recovery of their valuable memories and family history. It's even more gratifying to receive expressions of their joy at being able to relive past event with loved ones, many of whom have since passed on. I can't think of any other business that is so fulfilling to all concerned, including myself.
Testimonials
Mike, It arrived this morning, thank you, and the results are better than expected. Many thanks for your quality service and I look forward to sending more films soon. .

Regards, Rob QLD
Hi Mike, The quality of the video on the DVD you have sent is excellent. I have seen other's films converted and it had a lot of flicker etc. Thank you very much

Arthur QLD
Hi Mike, I'm not sure whether I had contacted you yet to thank you for your work on my parents-in-law's video. We are all really happy with what you achieved. The finished product is excellent and the family has enjoyed looking back over some wonderful memories. Thank you again for your care and time,

Kind regards, Lisa QLD
Hi mike, Thank you for your good work the main people who were in this snapshot of our family in happier days came out brilliant, your music choice for back ground and even the way the segments of my parents and siblings came together were a first class job.

Robert NSW
A bit about me...
My name is Mike Brown...
I operate from a home based studio in Red Hill, Brisbane. As a keen photographer in 1950's my dad shot many hours of Standard 8mm film during my early years.

These precious films followed me around the world slowly deteriorating as the years went by. I had always wanted to digitise them but not many people offered this service in 2003~2004 so decided to do it myself.

After many months of trial and error I devloped a conversion and digitising system capable of delivering professional results. The system I perfected back then is still performing well today, producing stunning reproductions of treasured home movies.

Once my dad's films were all safely converted to digital format, I thought there must be many other people in the same predicament, so began promoting my services. It surprised me to see so many people looking for digital services so decided to venture into a small business.

I personally capture, edit and colour correct all film that is sent to me. I take personal pride in all the work performed. This ensures that the highest quality is maintained with each and every film transferred. Film conversion is an art-form, requiring constant monitoring and equipment adjustment to compensate for different filming conditions.

Automated systems will only provide a 'best guess' adjustment resulting in poor reproduction. Please visit the Example Page to view my work.

Many of my clients are located in Sydney, Melbourne, Adelaide and other regional centres, so if you can't drop in personally please send your films/video via Australia Post registered service. Using this service, a tracking number is issued and all deliveries will require a signature upon collection. Your finished DVD and original films/video will be returned to you using the same registered service.

I am passionate about my work as I know the importance of preserving my dad's films. I look forward to assisting in your desire to relive your family history.
---
Welcome to my website...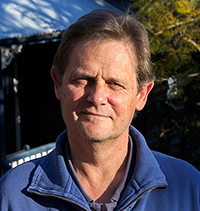 ---